We are looking for a new colleague, Senior Network Engineer – passionate about COFFEE! 😉
Are you looking for a place where you can harness your experience and technical knowledge? Come join our super team!
This job is meant for people who will manage and interact with customers and they need to be fluent in English.
So… here we go!
We are looking for dedicated, motivated, and creative colleagues as Senior Network Engineer to contribute with fresh ideas, learn new skills, and meet challenges with enthusiasm.
Responsibilities:
Provide 2nd and 3rd level support for incoming requests and incident reports;
Design, administration of network devices and firewalls in enterprise environments (2nd and 3rd level support);
Design of improvements with our customers environments;
Provide network architectures for new technologies and integration into existing network;
Assist in providing technical support to customers regarding IT network (LAN/WAN/ WIFI) infrastructure;
Maintain the integrity and security of the network;
Full responsibility for the implementation of network/firewall projects for our customers;
Close cooperation with internal and external partners.
Job attributions can also be achieved through remote work, the obligation of daily presence at the office is optional (except for weekly team meetings), following the accomplishments of objectives, closing support tickets and on-site interventions for our business customers.

Qualification:
Education within the IT area;
Minimum of 3-5 years of experience within the network and firewall-area in enterprise environments;
Well-founded experiences in managing Cisco/Fortinet/Dell/HP routing and switching components;
Fortinet/Cisco certification will be beneficial;
Well-founded experiences with Fortinet, Cisco, or Checkpoint firewalls;
Well-founded knowledge of ITIL process and experiences in co-working with different departments based on ITIL processes;
Solution-oriented and proactive thinking and doing;
High personal responsibility and ability to work within different teams.
We offer:
Dynamic work environment;
A great coffee that you can enjoy with colleagues at the office or remotely if you work remotely;
Possibility of personal and professional development;
Official training and certifications;
A full-time job for an undetermined period of time;
A young and enthusiastic team, ready to help you achieve your objectives.
Application:
If you want to apply or if you know somebody suitable for this position, please send a detailed CV via e-mail: cv@one-it.ro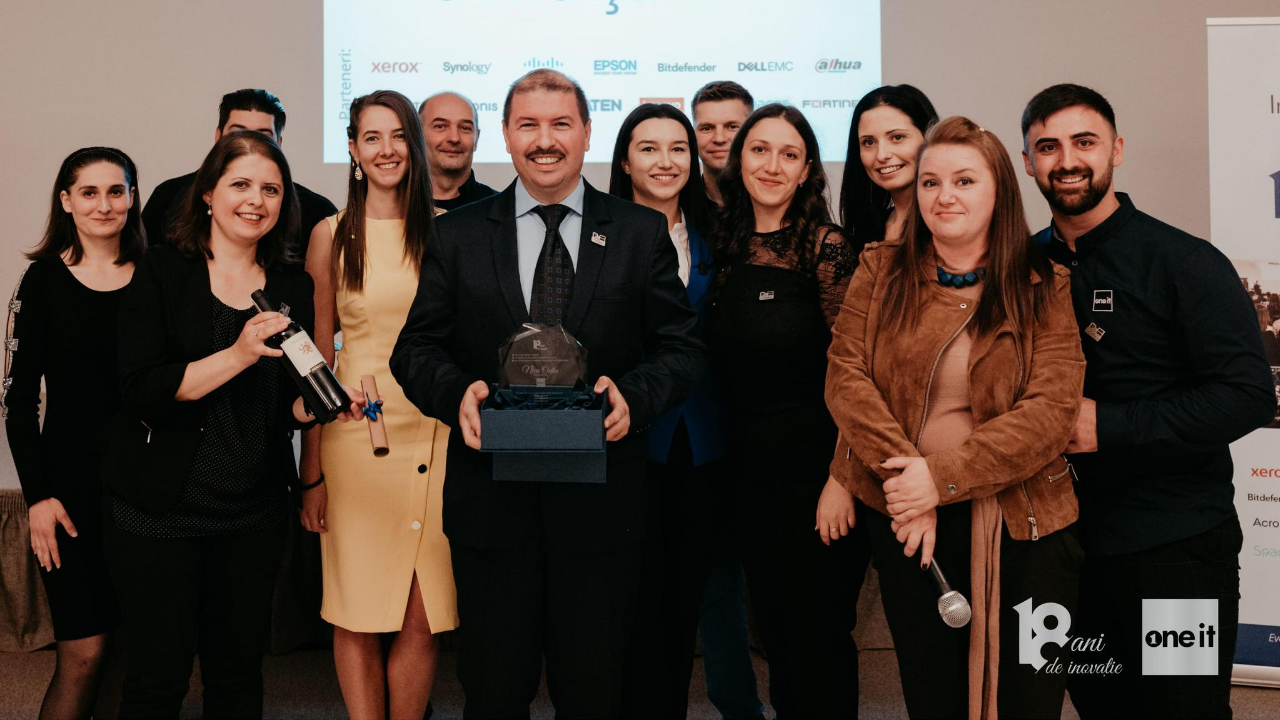 The position for which you intend to apply is a new position within the company, and we expect you to bring your contribution through experience and knowledge while contributing to achieving the objectives and development of the company. Here is some information about us, but we will get to know each other better if we meet at the interview.
About the company:
One-IT has been operating on the regional IT market for 17 years, offering integrated IT services (equipment sales and specialized service) both in the business sector (corporate clients and public institutions) and for individuals. We aim to promptly respond to the requirements of each of our customers and we offer them the guarantee of the best shopping experience. That is why we are: Dell Partner, Fortinet Partner, Toshiba Gold Partner, Intel Channel Partner, Fujitsu Partner, Microsoft Partner, Xerox Reseller, Asus Partner, Cisco Partner, Acer Partner, Bitdefender Partner, IBM Partner.
The One-IT team is a strong and dynamic team, and based on solid principles and values, it has made possible the continuous development of the company, transforming from simple employees into active partners, who constantly support the company's mission, vision, and objectives. We respect people and their work, whether we are talking about our colleagues or our clients.
.
For us, responsibility is of great importance and to do things right is essential. This is the only way can we progress. We understand that the existence of the company is directly related to customers and, therefore, we treat all customers as we would like to be treated. We understand that in order to bring value to our collaborators, it isn't enough to respond very well every time, but that we must always come up with news and improve their lives through technology.
If you resonate with what you have already learned about us and about the job we offer you, we are looking forward to seeing your CV and getting to know each other personally.
You can apply by sending a CV and a letter of intent to cv@one-it.ro